If you ordered a yearbook, you can pick them up in Mrs. Burnette's room at the high school!

The entire staff is in training until 10. If you need to enroll, we can help you 10-12 and 1-3 today.

Students need to be enrolled tomorrow!!!! Meet the teacher is Tuesday! Games start this week! School starts Thursday!!! Get those enrollments done tomorrow!!

Hello Arkoma! My name is Sam Waganer. I will be teaching 5th grade Math and Grammar/English Language Arts. I graduated with a master's degree in Teaching English to Speakers of other Languages (TESOL) from Arkansas Tech University in 2018. I have tutored/taught English at the University of Arkansas Fort Smith and the Literacy Council of Western Arkansas. I am really looking forward to being a part of the Arkoma community, working with fellow teachers and staff, parents and students, as well as, others in the community. In addition, I am excited to learn what makes Arkoma special and doing my best to add to it. Let's have a wonderful school year!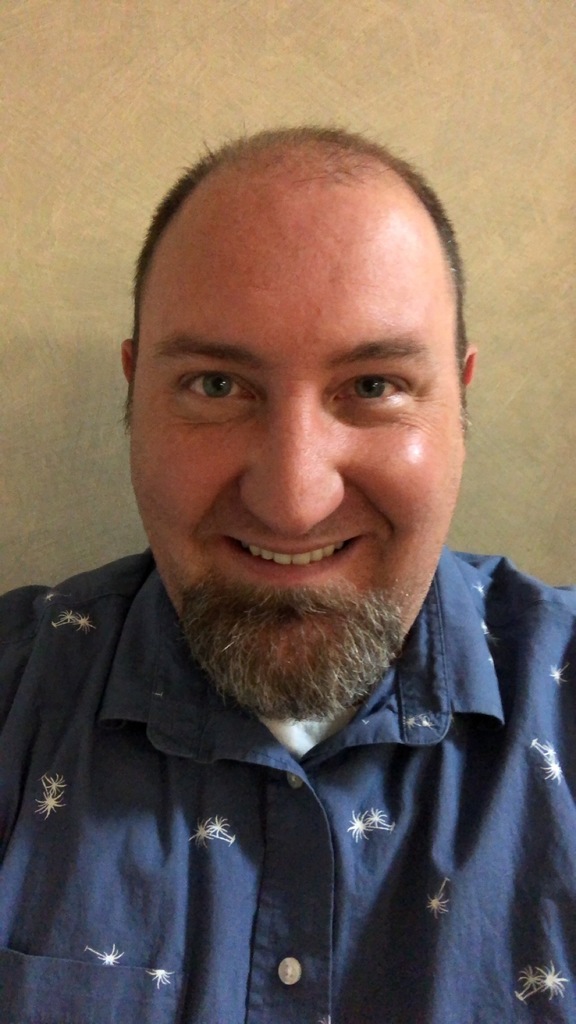 Evening Enrollment this Thursday from 3-6 at the elementary!

Check out our FB page for orientation information!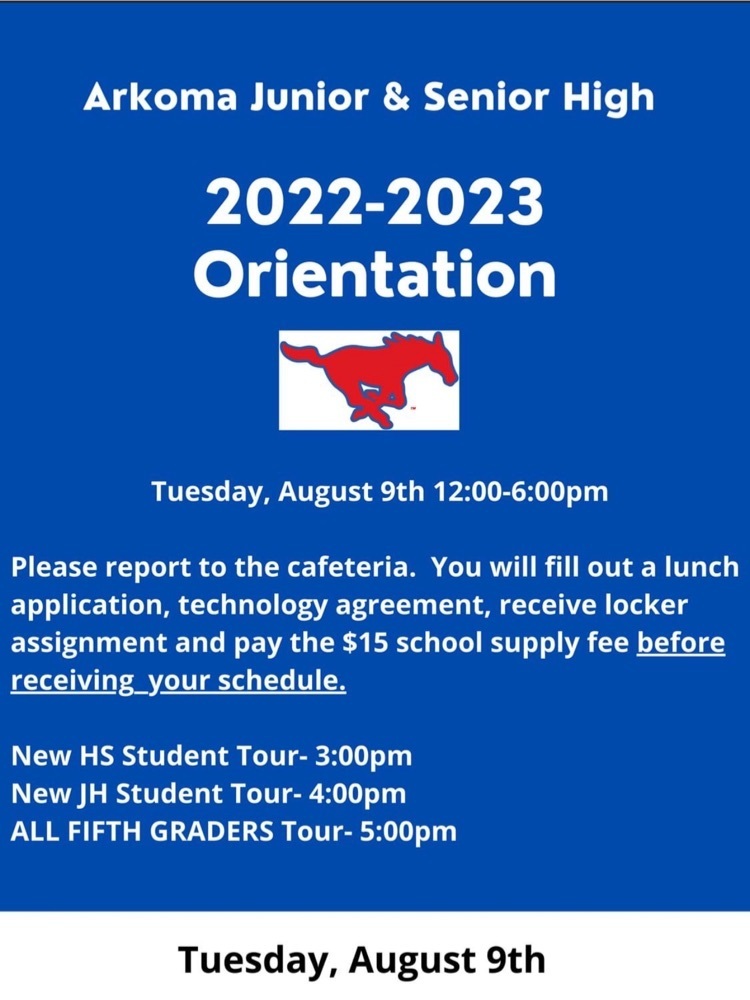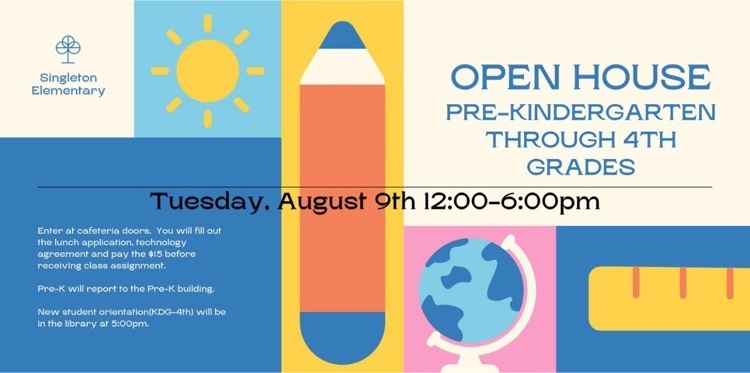 Coach Auston Reed has been very busy all summer preparing for the upcoming football season. He has also been preparing for his classroom which will house our HS Social Studies classes. Auston graduated from Oklahoma State University in 2015 with a Bachelor's Degree in University Studies. His degree plan was split with 3 years in secondary education, and 2 years studying criminal justice. Coach Reed has 4 years of experience in the classroom, ranging from 6th grade to seniors, teaching social studies, as well as all 4 years coaching football and baseball, both HS and JH. Coach Reed says, "Im looking forward to proving my value to Arkoma Public Schools by showing my worth ethic day in and day out. I believe that I can help transform the way our youth thinks by setting the example with my own actions. What I like most about this job is that I get the opportunity to mend and mold these kids into responsible people. I'm extremely happy and excited to be a part of Arkoma Schools and I'm excited about what this school and town can become!" We are excited to have Coach Reed as part of the Mustang Nation!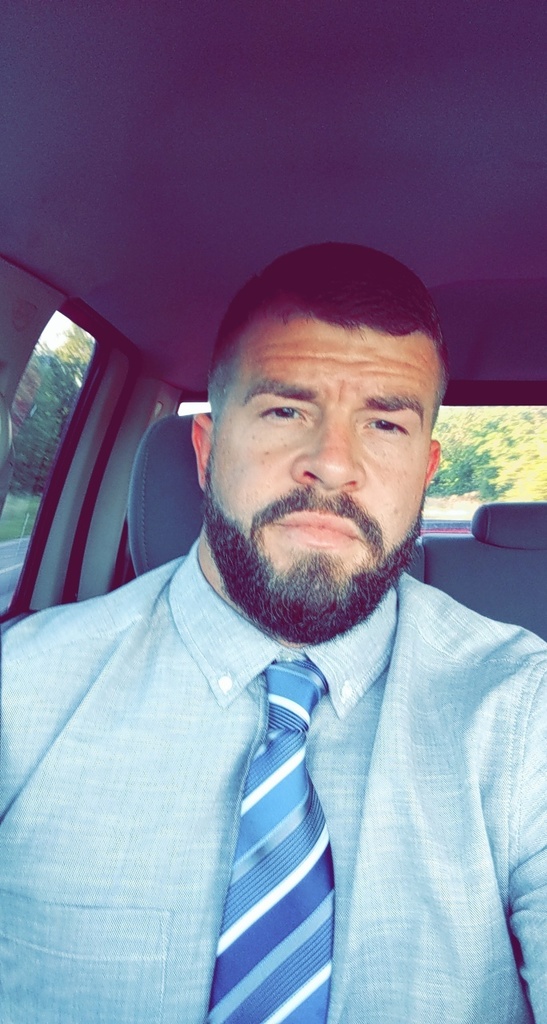 We are lucky to add an additional special education teacher, Mallory Speaks, to our staff. Mallory will work with students on the MS/HS campus. Ms. Speaks earned a Bachelors of Science in Criminal Justice from NSU in 2016. She also received a Masters of Science in Criminal Justice from ECU before obtaining a Masters in Education; Special Education that she completed in 2022. Mallory taught SPED at Lexington Public Schools last year. Ms. Speaks also has a vast knowledge in sports (basketball, golf, track & weight lifting) and will coach 3rd-6th grade girls' basketball this season. Ms. Speaks shared her philosophy, " I show my students/athletes that they can do anything they want as long as they work hard. Also, I want them to know that they have someone in their corner that cares. I'm thankful for this job/opportunity and to be moving back home and closer to family."

Meet first grade teacher, Sara Pugh! Sara is a 2022 Western Governor's University graduate, holding a Bachelor of Arts in Elementary Education (K-8). She has had the pleasure of spending five years in the classroom as a teacher's assistant, and is excited to begin her first year as a classroom teacher! Sara shared the following thoughts, "Regarding a teaching philosophy, Aristotle said it perfectly, "Teaching the mind without teaching the heart, is no education at all." I hope to create a classroom community where everyone belongs. To create an environment where we embrace our mistakes, treat our brains as a muscle, and celebrate all our accomplishments. I hope to teach my students how to help one another, and how to choose kindness." Mrs. Pugh says, " I am happily married to my husband, Matthew, and we share two perfect children together, Ryder (3) and Cecilia (1). This summer, we moved from Memphis, Tennessee to Oklahoma, and we are so excited to be a part of the Mustang Family! I look forward to meeting all my students and their families."

Welcome kindergarten teacher, Cierra Simpson. Cierra earned a Bachelors Degree in Rehab Science ('18) and a Masters Degree in Education with an emphasis in applied behavior analysis ('21). She has 6 years of experience in early childhood intervention in direct applied behavior analysis therapy. She believes this will benefit her position as a first year kindergarten teacher by allowing her to view the behaviors of each student at a different perspective. This will allow her to become creative in finding new classroom management missions/plans. Mrs. Simpson states "What may work for student A, might not work for student B and that's okay - being flexible is an everyday essential! " Mrs. Simpson says "School is where students go to learn… everything! Not only do we teach curriculum but we get to teach students about life. We have the opportunity to give them life experiences, social experiences, the availability to create relationships with others. Everything that we get to do as teachers, the culture of our classrooms, exposes our students to real life and that's valuable! School is a great place for students to come into their own, to develop themselves. So, for me, I'm excited that I get the opportunity to foster a place where students feel like they can learn, grow, and pursue their passions :)

The 2022-2023 school year is quickly approaching! Let's get to know the new faces around our campuses! Our new JH Science teacher and HS assistant football coach is Mr. Richard Reed. He is a 1998 OSU graduate with a B.S. of Education and 2006 Southern Nazarene graduate with a masters degree in Educational Leadership. He has 21 years of experience in Oklahoma public schools. Coach Reed says "I truly do care about the educational and overall well being of the students. I look forward to this new phase of my educational journey. I have high hopes and great expectations that many years of scientific discoveries will enhance the students at Arkoma. I am a believer in the possibilities of our students, I say our students because I will be there to help and provide guidance to the best of my abilities. I am very excited and proud to be a member of this school and community. I was looking for a new hometown and I believe Arkoma will be a great fit for my skills. I am an open book so if any parent or community member would like to discuss anything, school or sports related - please do not hesitate to contact me or call the school to schedule a visit." Welcome Coach Reed!

School starts August 11th! To enroll: email
acaraway@arkoma.k12.ok.us
for login information. School supply fee is $15 for PK-12th grade students. Students are responsible for their own pens and pencils. The supply fee can be paid at the elementary office starting Monday, July 11th. Students will not receive supplies until fee is paid. Enroll today!

Summer Pride is in full effect! If you have a JH or HS kid who wants to play ANY sport, they should come to the multiple workouts we have each week! Every coach has a skill specific workout time on top of the weight room times! We are changing our mindset and we need everyone's help to get our kids in that mindset, too! Contact any coach for more details.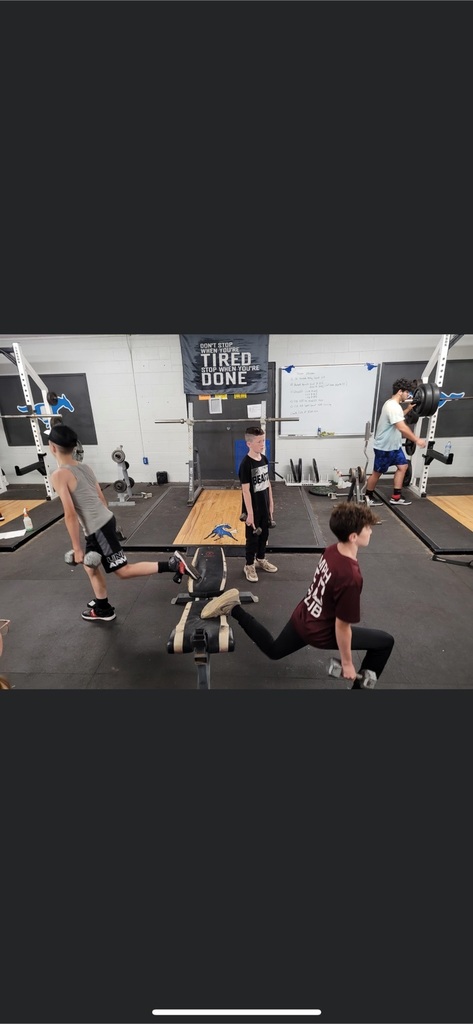 AHS Girls Basketball will host a fundamentals camp June 13th-15th boys and girls in grades 1-6. Sign up by June 1st to receive a basketball and t-shirt. Sign up at the elementary office. More information can be found on our FB page or by calling Coach Yandell at 918-490-3458.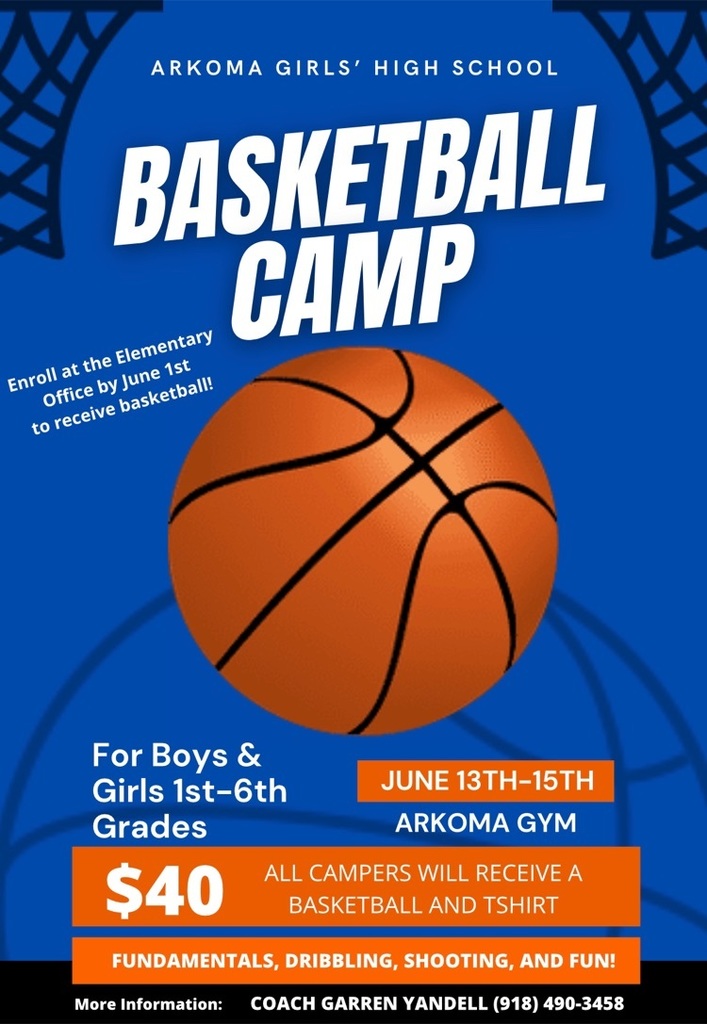 1st through 8th grade students may pick up their report cards at the elementary office today-next Wednesday between 8:00am-3:00pm.

Please join us in welcoming our new HS Girls' Basketball Coach, Garren Yandell. Coach Yandell says, "I am from Stidham, Oklahoma. I'm the oldest of 5, and have been raised in the education community my entire life. I graduated with my bachelors in 2020 from Northeastern State University. In May of 2022, I graduated with my masters in psychometry from Southwestern Oklahoma State University. Within the 2021-2022 school year, I had the opportunity to teach 5th grade at Midway Schools. As an athlete, I had the opportunity to play for many different coaches that enhanced my own basketball knowledge. I had the opportunity to play for Stidham, which in 2012, won the ORES division 4 State championship. I had the opportunity to be a part of the basketball team at Oktaha during my freshman and sophomore year. My junior and senior year, I had the privilege to play at Eufaula High School. Throughout my years of college , I've had the opportunity to shadow under multiple coaches from various schools. This year I am looking forward to the ability of not only sharing my love for basketball with the girls, but also enhancing each players skills and working to get better through each practice." Coach Yandell will hold a meeting in the game gym, this Friday, at 10am to meet the players.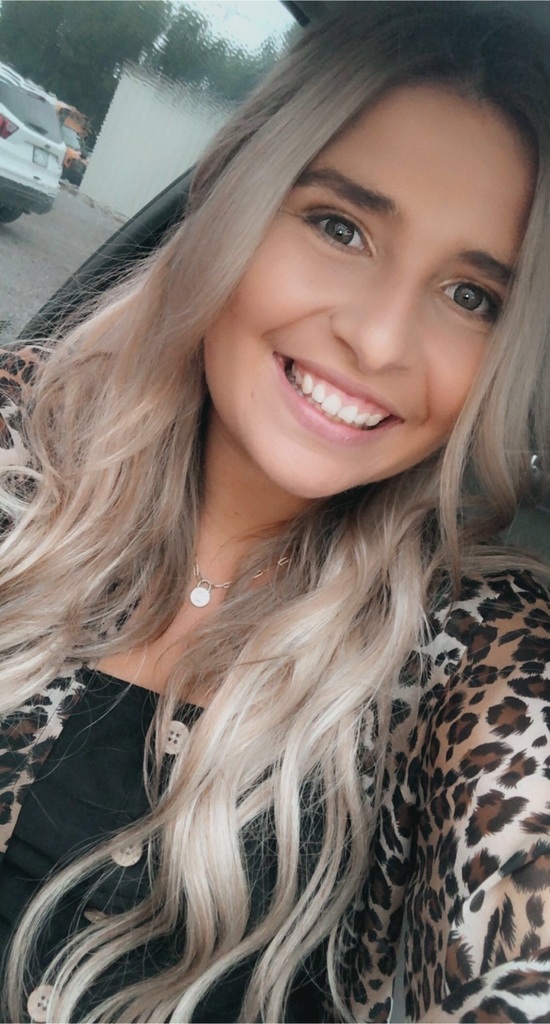 JH Science camp starts Monday! Go to our Facebook page for more information!

Tomorrow morning's elementary award assemblies will be held in the elementary cafeteria.

Due to heat concerns, graduation will be held in the elementary campus gym on Saturday at 2pm.