FREE eBooks and Audiobooks from the @JrLibraryGuild ! More information and links are located on the School Website Student Learning page.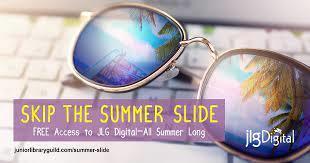 ALL school offices will be closed the week of June 21st. We will be back in the office the week of June 28th. Sorry for any inconvenience.

Arkoma Athletics physicals - July 16 - Girls - Game Gym - JH Girls 9am - HS Girls 10am - $20. Return your completed paperwork at that time. All paperwork must be complete and signed by athlete & parent/guardian.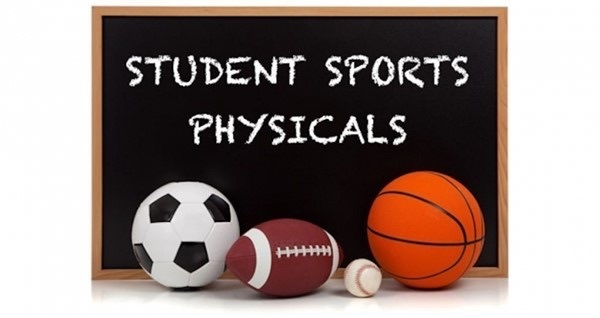 Football meeting tonight at 6pm at the elementary gym. We encourage JH boys(5th-8th grades) to attend as much as the HS boys! Coach Armstrong is excited to start junior high activities in the summer!! Hope you all come out and hear Coach Armstrong's vision for our teams!!!💙❤️💙

REMINDER: Coach Armstrong will have a meeting for ANYONE(5th-12th grades)interested in football tomorrow night, 6pm, in the elementary campus gym. We hope to see everyone there!

Report cards for JH/HS can be picked up through Thursday of this week at the elementary office. Our offices will be closed next week! Make sure to enroll as well, classes are forming now!

Reminder new and all returning students must enroll before being placed in classes. Offices will be closed next week, if assistance is needed, please call or stop by the elementary to see Mrs. Amanda by this Friday(6-18).

There will be a meeting for parents and other community members tomorrow at noon to discuss Federal Programs, Return to Learn protocols(Covid protocols) and use of ESSER funds. This meeting is open to the public and will take place in the School Board room at the elementary school.

Apply now for Summer EBT cards for students! Everyone is eligible and it's a great way to offset some of the food costs those hungry kids have over the summer break! Apply at Chickasaw.net/SummerEBT *Students do not need to be of Native American descent!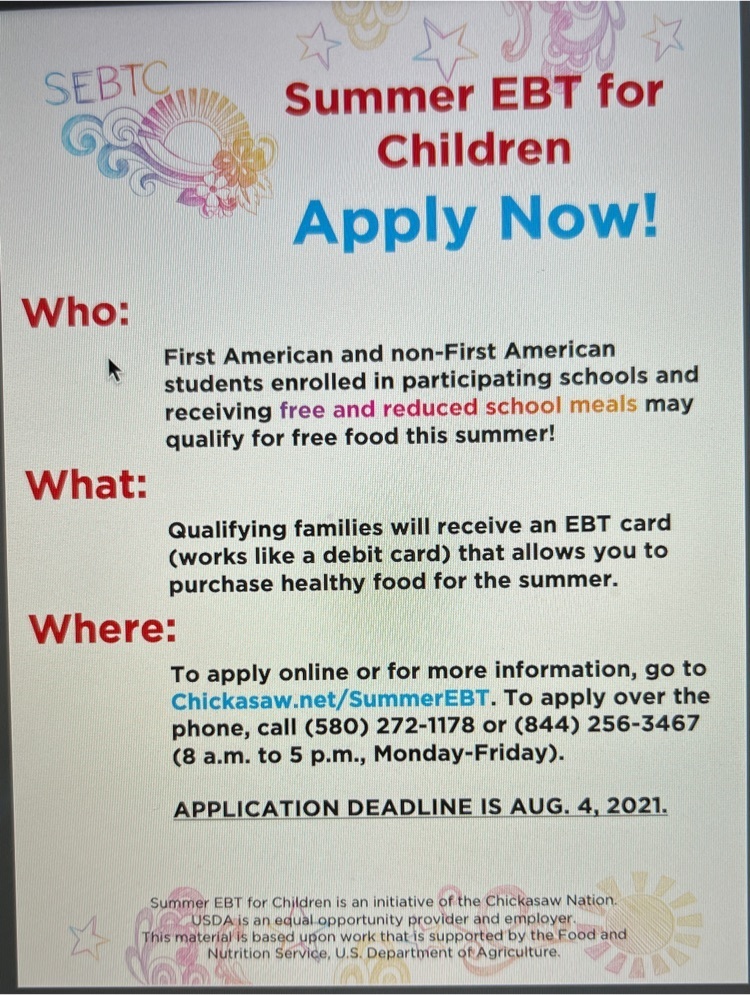 New and returning students must enroll for the 2021-2022 school year. Classes are forming now and enrollment must be complete to be placed in classes. Contact Mrs. Amanda at 918-875-3835 or come by the Elementary office if you need assistance.

Coach Armstrong Wants You! Come meet the new football coach and hear about his vision for Mustang Football! He wants EVERYONE who is interested in playing football, has ever played football or has ever thought about playing football to come hear how each boy can contribute to the program! Coach Armstrong invites players and parents to come out this Thursday, 6:00pm in the elementary campus gym. See ya there!

ENROLL NOW for 2021-2022 School Year! If you need help, please call 918-875-3835 or come by the Elementary office Monday-Friday 8-3.

Jaydynn Walden received the McDonald's All-American award at the 2021 Athletic Banquet. She is one of only 13 girls from Oklahoma to receive this award. She is a four year three sport standout in basketball, qualifying in state track competition, All-Region Cheerleader and a UCA All-American Cheerleader. Jaydynn received the Scholars Program Scholarship from Carl Albert State College, an Academic Scholarship from Southwestern Oklahoma State University, acceptance to the Honors Program at Missouri Southern State University and has received the Evans Scholarship. Jaydynn is a member of the Oklahoma Honor Society and the National Honor Society, a member of the Choctaw Nation Honors and has received 26 college credit hours. She is class historian and her scholarship total is $38,461. She will attend Missouri Southern State University.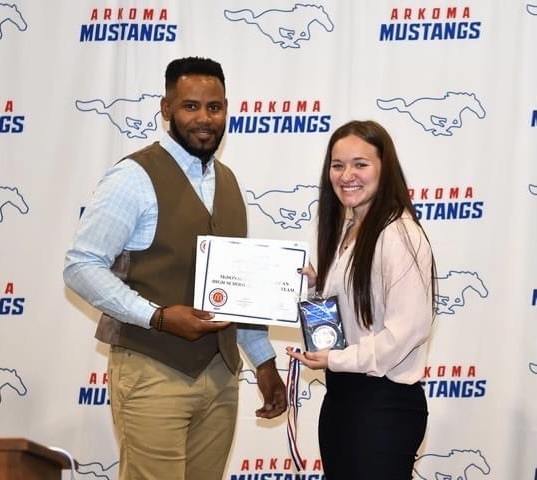 REMINDER: ENROLLMENT for 2021-2022 school year is going on now! If you have any questions or need help, please come by Elementary office or call 918-875-3835.

Haven Spoon received the OGBCA Academic All-State certificate during the 2021 Athletic Banquet. She also received Academic Scholarships from Southwestern Oklahoma State University and Oklahoma State University. She received a Welcome Home Scholarship, Academic Achievement Scholarship and The Crimson Commitment from the University of Oklahoma. She will also receive the Oklahoma's Promise Scholarship and the OHCE Scholarship. She is a member of the Oklahoma Honor Society and the National Honor Society. Haven completed 38 credit hours of concurrent college classes while in high school and belongs to the Choctaw Honors Program. She represented Arkoma in FCCLA and received Gold in the STAR program at nationals. Haven is class valedictorian and her scholarship total is $57,372. She will attend the University of Oklahoma.

ENROLLMENT FOR THE 2021-2022 SCHOOL YEAR IS GOING ON NOW!! If you need help enrolling please call 918-875-3835 or come by the Elementary office.

Monday through Friday 7:45am-8:15am & 12:00pm- 12:30pm at Arkoma Public School's Singleton Campus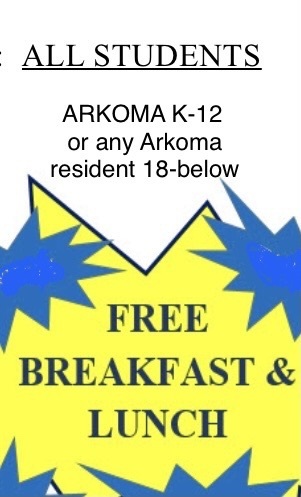 5th-11th grade report cards are ready to be picked up. All report cards can be picked up at the ELEMENTARY CAMPUS office Monday-Friday between 8am-3pm.

REMINDER: ENROLLING NOW for Fall 2021. Please enroll as soon as possible so we can hire accordingly. If you need help, you can come by the elementary school and we will assist you through the entire process!

REMINDER: Parents please ENROLL NOW for next school year. We need enrollment numbers so we can staff the best way possible for your children! Early enrollment may make a difference between one and two teachers for an assignment. Please call 918-875-3835 if you have any questions. Thank you!!